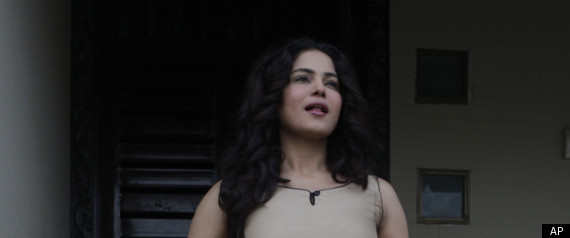 ISLAMABAD — A Pakistani actress who posed in the nude for an Indian magazine with the initials of Pakistan's feared and powerful intelligence agency on her arm has triggered fury across this conservative nation.
Veena Malik's photo on the website of FHM India, in advance of its publication in the magazine's December issue, has been lighting up social network websites since earlier this week.
Many here anticipate a backlash, as nationalists and Islamists regularly stage rallies against anything they deem an insult to Islam or to the national honor. India and Pakistan have fought three wars, and the Inter-Services Intelligence agency or ISI has been accused of sponsoring terrorist attacks inside India.
Malik has broken Pakistani religious and national taboos in the past. She is a target for conservative ire and a heroine to some Pakistani liberals.
Conservative cleric Maulana Abdul Qawi declared on Aaj TV on Saturday that her latest venture into controversy was a "shame for all Muslims."
In an interview with Pakistani Geo television broadcast Saturday, however, Malik said the nude photo was published in violation of her agreement with FHM India and she was considering legal action against the magazine.
Malik acknowledged having been photographed for a "bold but not nude shot." She said the editor of the magazine had promised that he would cover most of the photo with the ISI initials.
The photo was intended to poke fun at the Indian fear of Pakistani spies, she said, adding "whatever happens (in India), people say ISI is behind that."
Magazine editor Kabeer Sharma said Malik had given full consent for the shoot and the picture.
"We have all the record(s)," he told the Pakistani television station. "Veena was very excited about that ISI idea."
Zubair Khan, a 40-year-old shopkeeper in the northwestern city of Peshawar, agreed, saying the photo had given rival India another opportunity to insult Pakistan.
"She has earned a bad name for the entire Pakistan nation," he said.
Others questioned the authenticity of the photo.
"It seems to be an Indian attempt to malign Pakistan by faking her nude pics, or she might have done it to get a cheap publicity," said Lubna Khalid, 38, a housewife in the southern port city of Karachi.
Twitter commentator Umair Javed however called on Pakistanis to "make copies of the picture and bury it in your backyard. This way, our grandkids will know there were some amongst us who lived free!"
Asked by reporters whether Pakistan would "pursue the matter" legally, the country's Interior Minister Rehman Malik said Saturday, "First, let us see whether it is real or fake."
Malik does most of her work in India. The entertainment sector there is booming, while Pakistan's is moribund. Her ties to Pakistan's archrival have landed her in controversy in the past.
During a much-publicized talk show appearance early this year, she lashed out her nemesis Abdul Qawi, who criticized her for having a scripted love affair with an Indian actor on an Indian reality show.
"What is your problem with me?" an angry Malik demanded of the scholar, who had accused her of insulting Islam.
Veena Malik nude photo: Pakistan minister Rahman Malik warns her of 'strict action'
Queen of controversies Veena Malik may or not have done a nude shoot for an Indian magazine but this time it may not be a hands-down win for Pakistan's custodians of morality because her admirers seem to have multiplied over the year.
Malik, who last ran into trouble for not playing miss-goodie-two-shoes on Indian reality show 'Bigg Boss IV' earlier this year, is back in the spotlight for allegedly posing nude for the cover of FHM India magazine with an "ISI" tattoo on her arm.
She has denied posing nude and has threatened to sue the magazine, whose editor Kabeer Sharma insists that he has a video and an email from Malik that prove the authenticity of the photo.
Pakistan's Interior Minister Rahman Malik has said he had not seen the pictures.
However, he contended that if Malik had done a nude shoot, "strict action" would be taken against her.
Women have come out in hordes in the virtual world, at least, to support Malik.
"Veena I am proud of you!" wrote Sonia Wahab on a web page.
The best response came from filmmaker Sharmeen Obaid Chinoy.
She posted on Twitter: "For all you clerics waiting to pounce on Veena Malik better have your excuses lined up about why you were looking at FHM in the first place!"
On the website of The Express Tribune newspaper, Abdul Jabbar posted: "Veena has every right to pose how she wants.
"May be she's showing our moral hypocrisy where we value a woman by her sex life. Maybe she feels she has got nothing to be ashamed of her body, that the female body is not a source of sin and shame. I for one, will not condemn her.
"The Egyptian blogger did it recently and her reasons were valid. There is no need to attach a woman's value in society by the amount of clothes she wraps herself into," he wrote.
But Malik had her share of detractors too. On a Facebook page floated to hate all things Indian, the administrator posted: "Shameless Veena Malik poses naked for men's magazine FHM (India). Notice the ISI tattoo on her arm. This gesture from eastern (sic) neighbour speaks of their frustration and hatred towards the ISI. Veena Malik shame on you".
Over 80 comments that followed requested members of the page to ask Pakistan's Supreme Court to cancel Malik's nationality and to make sure that she does not live in the country again.
Malik has been trending on microblogging website Twitter since the photo became public yesterday.
Actress Meera, Malik's bete noire, called her a "completely mad woman".
The feminists, while supporting Malik's decision to pose nude, wondered if it also amounted to real empowerment.
"Why 'empowerment' and a 'free life' mean no clothes?" tweeted Ayesha Malik.
Some others explained why Malik was in denial. "After all, she probably fears being stripped of her Pak citizenship," wrote blogger Cafe Pyala.
Veena Malik's 'nude picture' evokes mixed reaction
Humour and anger were available in fair measure across Pakistan as reports reached here about actor Veena Malik reportedly posing nude for the cover of an Indian magazine.
Though the cover has been the buzz on social networking sites since Friday afternoon, the local media was slow to pick up the story and even then the 'ghairat brigade' (honour brigade) was not out in strength with daggers drawn.
Given that her previous appearance on Indian television's Big Boss season had got her into trouble back home, many found it difficult to believe the cover picture was real. It must have been morphed seemed to be the general belief and so when her public relations manager claimed that the photographs were not hers, many bought that version. In fact, the dominant sentiment was that if the photograph was hers, then Ms. Malik probably had no intention of returning to Pakistan, knowing full well that there would be a lynch mob waiting for her. Worse still, was the fact that the bare-all photograph has ISI tattooed on her arm.
In an interview to Geo News, Ms. Malik said she had done a bold shoot for FHM magazine but it was not a nude shoot. As for the ISI tattoo on her arm, she said it was the magazine editor's idea to take a dig at the general Indian tendency to blame everything that goes wrong in India on the ISI. Maintaining that she would take recourse to legal action as her photographs had been doctored, Ms. Malik said she was well aware of her limitations and had never in her life done a nude shoot. Meanwhile, the magazine's website on Saturday changed the cover of the December edition though it still featured her in a different pose. This time, the "Pakistani WMD'' — as the magazine chose to call her — is caught in the act of pulling the pin out of a grenade.
And, once again Twitter was abuzz with some among Pakistan's tweeting community expressing disgust, the liberal lot saluting her for the courage in doing what she wanted, and others making light of it with sarcasm. Commenting on the latest FHM cover, one tweeter said "Veena Malik would make a terrible ISI agent considering how much she reveals" while another wondered if cricketer-turned-politician Imran Khan's Pakistan Tehreek-e-Insaf would invite her to the party fold now that she had revealed all her assets.
Sphere: Related Content