Saturday 23rd April 2011 @ 1:45pm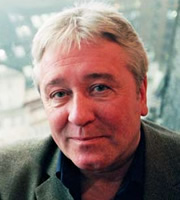 John Sullivan, one of Britain's most successful comedy writers, has died aged 64 following a short illness.
Growing up from a working-class background with no qualifications, Sullivan created and wrote a number of comedy series, including
Only Fools And Horses
- the hugely popular programme starring David Jason and Nicholas Lyndhurst. The 1996
Only Fools And Horses
Christmas special was watched by 24 million people, setting a UK sitcom audience record; and a 2004 TV poll of the public named Sullivan's sitcom as the best British sitcom of all time.
Other comedies created by Sullivan included
Citizen Smith
in the 1970s, and hit 1980s sitcoms
Dear John
and
Just Good Friends
. The writer also created the
Only Fools And Horses
spin-off sitcom
The Green Green Grass
, and comedy drama prequel
Rock & Chips
. A new episode of the latter, which tells the story of Del Boy's younger years, is due to be shown on BBC One on Thursday. This new third
Rock & Chips
special was written by Sullivan last year and, in light of today's news, is expected to be the final episode of the comedy drama.
As well as a talented writer, Sullivan also composed the theme tunes of many of his programmes, including
Only Fools And Horses
,
Just Good Friends
and
Dear John
.
BBC director general Mark Thompson said: "John had a unique gift for turning everyday life and characters we all know into unforgettable comedy."
BBC head of comedy Mark Freeland adds: "No one understood what made us laugh and cry better than John Sullivan. He was the Dickens of our generation. Simply the best, most natural, most heartfelt comedy writer of our time."
John Sullivan was born in Balham in 1946, and it was there he observed the market traders who inspired the character of Del Boy. He has said in interviews since that the secret to his success was that he wrote about what he knew. Sullivan is survived by his wife, their two sons and one daughter, and two grandchildren.
The video below, filmed last year, features Sullivan and other cast and crew members discussing working on the second
Rock & Chips
special...
Sphere: Related Content