NUJ members 'overwhelmingly' back action over below-inflation pay offer of 1.75%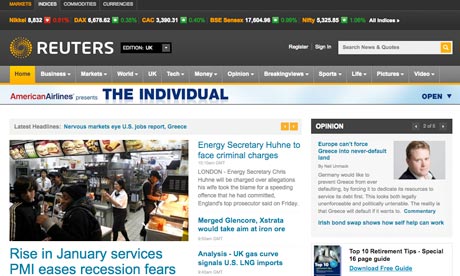 Journalists at
Thomson Reuters
have voted to strike – the first at the news agency for the first time in more than 25 years – over a below-inflation pay offer.
The National Union of Journalists chapel at the company voted "overwhelmingly" for a 48-hour strike next week, to coincide with the release of Thomson Reuters' full-year financial results.
"We tried very hard to reach a settlement with management but the company's refusal to improve its below-inflation offer of 1.75%, which follows years of effective pay cuts, has compelled Thomson Reuters journalists to vote overwhelmingly for strike action for the first time in more than 25 years," said the Thomson Reuters NUJ chapel officers, Mike Roddy and Helen Long.
"Thomson Reuters must shoulder the responsibility for this dispute. The company ignored repeated warnings that members had reached a tipping point, after years of below-inflation pay rises, combined with rising costs, that are pricing many members out of their jobs."
The NUJ said that the pay offer had hit journalists whose families cannot afford to live in London.
A ballot for industrial action saw 83% of NUJ members at Thomson Reuters voting in favour and the strike is scheduled to begin at midnight on Thursday 9 February, for 48 hours.
The NUJ claimed that Thomson Reuters was also "under fire" over its treatment of cleaning staff at its Canary Wharf offices.
Barry Fitzpatrick, deputy general secretary of the NUJ, said: "This strike is about fairness. The management is proposing a below-inflation pay deal, while holding back money for a merit scheme.
"This is just not on. While our members struggle to make ends meet on their wages, the management should be putting all the money into an across-the-board pay increase."
NUJ members at the news agency last threatened to strike in 2008 and 2009 over job cuts and working conditions following the merger of Reuters and Thomson.
Thomson Reuters declined to comment.
• To contact the MediaGuardian news desk email editor@mediaguardian.co.uk or phone 020 3353 3857. For all other inquiries please call the main Guardian switchboard on 020 3353 2000. If you are writing a comment for publication, please mark clearly "for publication".
Sphere: Related Content