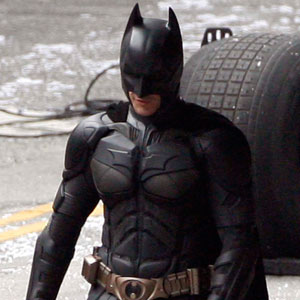 PhamousFotos / Splash News
It's an excruciatingly long eight-month wait until
The Dark Knight Rises
opens July 20, but we're one step closer to learning where the final chapter of
Christopher Nolan
's Batman saga picks up and what's at stake.
This comes courtesy of the filmmaker himself who, along with star
Tom Hardy
, spoke to the U.K.'s
Empire
magazine in its upcoming issue about what moviegoers can expect in his exceedingly grim telling of the Bruce Wayne mythos.
Here are the best of
TDKR
's tantalizing tidbits...
MORE: After Seven Months, It's a Wrap for The Dark Knight Rises!
We're a Long Way From The Dark Knight:
At the end of the last film, the Caped Crusader had purposely became a false villain in order to save the people of Gotham City from knowing the truth about their white knight—that District Attorney Harvey Dent, aka Two Face, had turned evil. In the first bombshell Nolan drops, time has moved swiftly on since then.
"It's really all about finishing Batman and Bruce Wayne's story. We left him in a very precarious place," the helmer says. "Perhaps surprisingly for some people, our story picks up quite a bit later, eight years after
The Dark Knight
. So he's an older Bruce Wayne; he's not in a great state."
In the teaser trailer that came out last summer, there's a scene in which Police Commissioner Gordon from his hospital bed tells an off-camera Bruce Wayne: "We were in this together and then you were gone. Now this evil rises. The Bat Man has to come back."
By the sound of it, Nolan may be using as his source for inspiration
Frank Miller
's classic series for DC Comics,
Batman: The Dark Knight Returns
. First issued in 1986, Miller's opus tells the tale of a middle-aged Wayne, who had given up his secret identity, forced to come out of retirement and don the cape to fight a new foe. Only time will tell if we're right.
MORE: New Dark Knight Rises Footage Surfaces! Batman Occupies Wall Street...Kicks Butt
Aby Baker/Getty Images
Bane = Brutal:
In the case of
TDKR
, the baddie that prompts Batman to come back is Bane, played by Hardy, who tells
Empire
his character will "give Batman a challenge he hasn't had before."
"With our choice of villain and with our choice of story we're testing Batman both physically as well as mentally," the actor says.
Hardy goes on to explain how Bane differs from the more psychological terror posed by his predecessors—the Joker and Scarecrow and Ra's al Ghul's League of Shadows from
Batman Begins
.
"He's brutal.
Brutal
. He's a big dude who's incredibly clinical, in the fact that he has a result-based and oriented fighting style. It's not about fighting. It's about carnage. The style is heavy-handed, heavy-footed, it's nasty," says Hardy. "Anything from small-joint manipulation to crushing skulls, crushing rib cages, stamping on shins and knees and necks and collarbones and snapping heads off and tearing his fists through chests, ripping out spinal columns. He is a terrorist in mentality as well as brutal action."
MORE: Batman vs. Catwoman: Christian Bale and Anne Hathaway Suit Up on the set of The Dark Night Rises
Warner Bros. Pictures
What's Up With Bane's Mask?
According to costume designer Lindy Hemming, that contraption keeps him alive.
"[Bane] was injured early in his story. He's suffering from pain and needs gas to survive," she tells the magazine. "He can't survive the pain without the mask. The pipes from the mask go back along his jawline and feed into the thing at his back, where there are two canisters."
Bane's Achilles' heel perhaps?
MORE: The Dark Knight Rises in...um, Pittsburgh?!
Now About That Long-Rumored Prologue:
Like
The Dark Knight
, whose opening sequence was screened in select IMAX theaters well in advance of its release, Nolan confirmed for the first time that the
prologue
for
The Dark Knight Rises
will be presented before IMAX screenings of
Mission: Impossible—Ghost Protocol
when the latter hits theaters Dec. 21.
"[It's] basically the first six, seven minutes of the film," says Nolan, who adds that it will serve as "an introduction to Bane, and a taste of the rest of the film."
We've got goosebumps already.
PICS: Movies From the Future!
Read more:
http://www.eonline.com/news/dark_knight_risesmdashsecrets_revealed/276416#ixzz1eSUNhs9w
Sphere: Related Content